The Olympian Summit XL 2 swing set has all the fun features your kids crave. The fort structure has a 6' high deck with over 25 sq. ft. of play space. This play structure also includes wood roof XL, gable kit, accessory arm with rope ladder, 3 position 9' swing beam, 3 – belt swings, gang plank, and 12' rocket slide. Summit Outlook play sets include a limited lifetime warranty on all wood, metal, and hardware components.
Features Included in this Play Set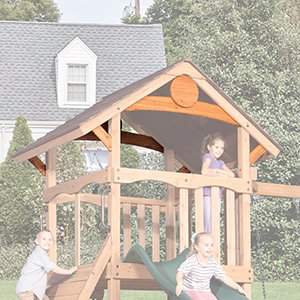 Summit Outlook Gable Kit
Aesthetic upgrade for Summit Outlook wood roofs with curved gables and corbels.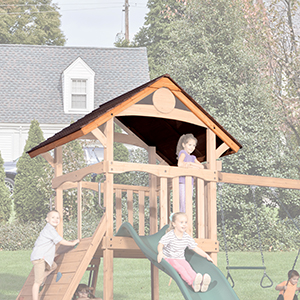 Summit Outlook Wood Roof XL
Wood roof for Summit Outlook XL swing sets and is included in limited lifetime warranty.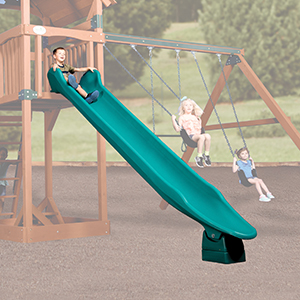 Rocket Slide 12' Green
12' long premium scoop slide with high entrance walls and safe exit design for any swing set with a 6' high deck.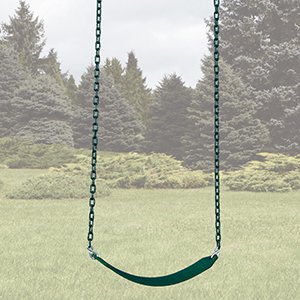 Belt Swing - Green (9' Swing Beam)
Belt swings are a swing set classic for soaring through the air. This belt swing is designed for a 9' high swing beam, has 1/4" galvanized, power-coated chains, and a rubber safety grip to provide a secure place for hands.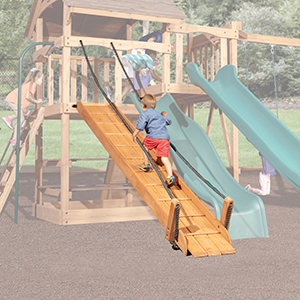 Gang Plank - Summit Outlook
The gang plank is a popular wooden swing set accessory designed to help children of all ages safely enter and exit their backyard fort. The wooden ramp includes soft-touch, marine grade rope for 5' and 6' high decks.
Summit Swing Beam 3 Position 9' High
Summit swing beam with 3 swing positions and an 9' high top beam.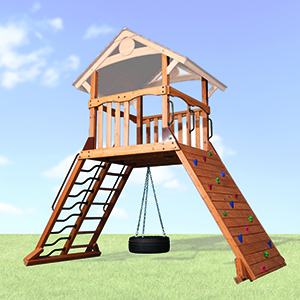 Olympian Summit XL
Olympian Summit XL playset fort has 25 sq. ft. of play space, a 6' high deck, and comes standard with the rock wall, combo ladder, and tire swivel swing.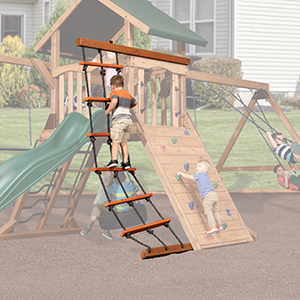 Rope Ladder Accessory Arm Olympian Summit XL
Rope ladder climging feature for Olympian Summit XL swing set forts.
Dimensions

Length: 27'11"
Width: 12'5"
Roof Height: 12'4"
Swing Height: 9'

Suggested Use 

Play Area: 36' x 23'
Backyard Adventures Residential Warranty